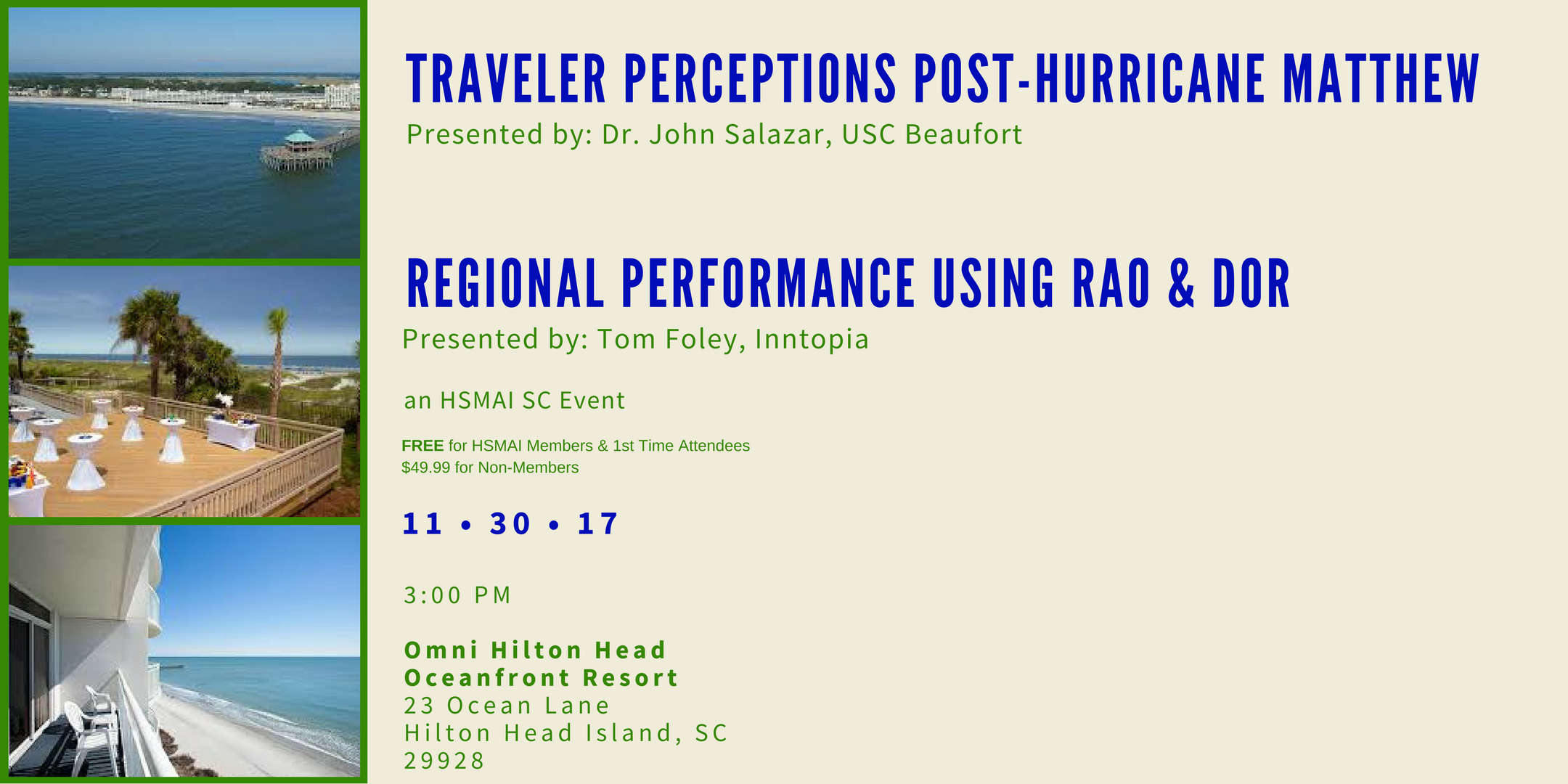 Traveler Perceptions Post-Hurricane Matthew & Regional Performance
Nov 30, 2017 3:00 PM
HSMAI SC Chapter Educational Seminar Please share this invitation with other hospitality sales & marketing professionals that may wish to attend. This event is FREE for HSMAI members and 1st-time non-member attendees, all other non-members are $49.99 ($46.45 plus $3.54 processing). If you'd like to join HSMAI so that you may enjoy our events for free, please visit http://www.hsmai.org/join.cfm.  Presentation, Discussion, and Networking - November 30th, 2017 - 3:00 PM to 5:00 PM Program Overview: Dr. John Salazar from USC Beaufort will present his findings on traveler's perceptions of Hilton Head Island post-Hurricane Matthew.  Tom Foley of Inntopia will discuss the regional performance using RAO and DOR data, along with a town hall Q&A. Join us for a networking Happy Hour immediately following the presentation. This meeting is hosted by HSMAI South Carolina and produced with support from Omni Hilton Head Oceanfront Resort and Expedia.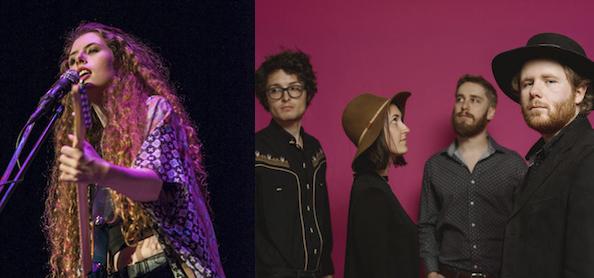 The Steppin' Stones + The High Divers - Sibling Rivalry Tour
Jan 20, 2018 8:00 PM
Hannah Wicklund & The Steppin Stones    "If Stevie Ray Vaughan and Slash had a love child, and that love child and Janis Joplin had a love child, it would be Hannah Wicklund." Hannah Wicklund and The Steppin Stones is an American rock 'n' roll band from Hilton Head Island, South Carolina. Wicklund formed The Steppin Stones at the age of nine. While most were accomplishing third grade reading lists, Wicklund was forming a rock 'n' roll band. Playing over 1,500 shows, sharing stages with acts including Kansas, Jefferson Starship, Outlaws, Lyle Lovett, Jason Isbell, and Rusted Root before legal voting age, Wicklund and The Steppin Stones have evolved over a decade. "18-year-old vocalist and guitarist Hannah Wicklund who delivers melodies and styles from multiple genres with both expert precision and original adventurism…it's astonishing how they achieve such a mature rock sound on their 2015 self-title album," wrote Modern Rock Review's Ric Albano. Now in Nashville, Tennessee, Wicklund, guitarist, pianist, singer and songwriter is accompanied on stage by bass and drums. Wicklund's signature curls flying through the air transport back to the time of the first female rock star, Janis Joplin. Capturing the old soul of a new generation, Wicklund's singing voice and guitar playing have earned her comparisons to blues/soul musician Susan Tedeschi. With the band's musical influences from Jimi Hendrix, Fleetwood Mac, Tom Petty & the Heartbreakers and Jeff Beck, Wicklund's classic rock look get fans listening, but her guitar skills keep them wanting more. "I remember the first time I saw Nirvana in 1990 in a small club in Jax Beach with a handful of long hairs and shoe gazers. I will never forget that night, but I was more blown away tonight by Hannah than by Kurt. She is a monster talent and her trio is cool as shit. Tonight was one of those once in a life time moments when you catch a superstar on the way up. Please support her so everyone else who plays guitar can retire," said Josh Talbot, Nashville native. While touring and playing private events including parties for AC/DC's Brian Johnson, the band has managed to release four albums. The latest, a self-titled album recorded at Echo Mountain Recording Studios in Asheville, NC in 2015. The band will close 2017 with their first international tour and kick off 2018 with the release of their third album, produced by Sadler Vaden. The High Divers "We all moved to Charleston (SC) on the same day, and there was nothing else in our minds but forming a kick ass touring rock band", says frontman, Luke Mitchell. With some extensive tours under their belts, as well as some opening slots for notable acts such as Nathaniel Rateliff & The Nightsweats, Delta Spirit, Shovels & Rope and Drivin N Cryin; The High Divers are steadily becoming exactly what they'd envisioned since day one. Riverlust, the group's debut record, released fall of 2015, found its way onto many "best of" lists and was warmly received up and down the East Coast. The band has quickly gained a foothold in the Carolina music scene as well, starting to sell out various venues in Charleston, Beaufort and Hilton Head Island. "We've been touring non-stop" says Mitchell, "We feel so static whenever we're home for more than a couple of days". The Band is quickly approaching putting the final touches on their Sophomore release which is due out mid-September. "There's been a little bit of a departure from any sort of "twang" on this record, says Mitchell  "We don't really want that "Southern Rock" moniker to follow us around forever, as we feel we're so much more versatile than that label" . A band that would have felt equally as comfortable in the 60's Detroit Motown scene as they would hanging out in Topanga Canyon in the early 70's, The High Divers are creating songs that nod towards music of the past, while pushing ahead all the time.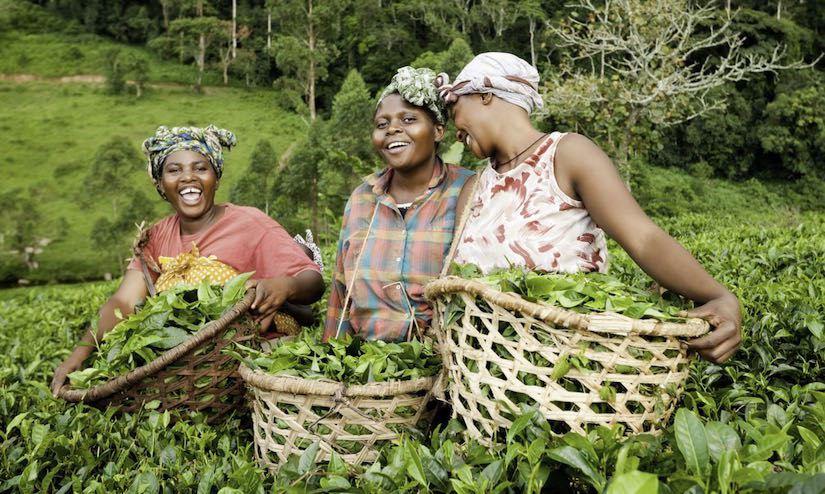 Where Women Gather: A Celebration of Women in Agriculture Conference and Symposium
Jun 28, 2018 8:00 AM
Dates: June 28, 2018 to June 30, 2018 Location(s): Main Conference Meeting Space Omni Hotel 155 Temple Street New Haven, CT. 06510 Breakout Rooms & Vendor Symposium Gateway Community College 20 Church Street New Haven, CT. 06510 Contracted Hotels: Room reservations are not included in registration rate. Please contact the hotels directly in order to reserve a room for your stay. Omni Hotel at Yale University (Pending) Courtyard Marriot New Haven (Pending) The Study at Yale (Confirmed) Please register online at: https://reservations.travelclick.com/15472?groupID=1982480 New Haven Hotel (Confirmed) Please contact the reservations line at 1800-644-6835 to make their reservations and use the group code "HIDDEN" in order to receive the group rate. Invited Speakers: Lisa Kirivist Nakia Navarro  Dr. Carolyn Sachs Dr. Mike Rossman Dr. Lorann Stallones Minda Honey Rowen White Anha Kruzic Ruby Olisemeka Lise Metzger  Henry Talmage Katie Stagliano Tambra Raye Stevenson (Pending) Patricia E. Kelly (Pending) Eric Holt-Giménez (Pending) Alexandra Ketchum (Pending) Maya Hey (Pending) Conference Information: Working Theme: Women, Intersectionality and Food Systems *This page will be updated periodically as Conference agenda items are confirmed* Day One, June 28, 2018 Sunrise yoga (Omni Hotel, room TBD): 6:30 am to 7:15 am Introduction: Welcome to New Haven: 8:00 am to 8:30 am - Honorable Mayor Toni Harp Plenary Session: 8:45 am to 10:45 am  Soil Sisters:  How Women Intersect & Cultivate Healthy Food Systems w/ Lisa Kirivist What's the key ingredient to healthy communities?  Women leading food system change.   Women make up one of the fastest growing segments of new farmers today and we come from a long and deep history and tradition of cultivating the soil.   This fresh crop of women farmers today find innovative ways to champion local agriculture and foster greater collaboration and cooperation, all based on an intentional intersectionality:  we are all connected.  Collectively, women "connect the dots" and improve the health of our environment, stimulate the economy, build a greater sense of community, and nurture a more vibrant food system.  What does our future hold? How can we support more women cultivating these connections?  Come celebrate the historic roots and inspiring stories of women farmers today — and in the future. Attendees will gain an understanding of: The intersectionality of the women in ag movement:  how collaboration and cross-pollination support women in launching and succeeding in farm businesses. The complex history in which today's women farmer movement is rooted, such as a lack of representation and discrimination. A diversity of women farmer success stories throughout the country, identifying business tactics and ideas to use in their own farm ventures. The importance of increasing the number of women farmer in leadership positions and encouraging attendees to take on such roles, including running for office. Break: 10:45 am to 11:15 am Workshop Sessions:. 11:15 am to 12:30 pm Session A:   Breaking Ground: How to Access NEGEF Awards & Sponsorships w/ Nakia Navarro Nakia Navarro, Program Director for  the New England Grassroots Environment Fund will provide insight on how the Grassroots Fund awards grants and provides training/skill building resources to frontline organizers. The New England Grassroots Environment Fund is a collaborative funder with over 20 years experience resourcing the frontline of the New England environmental justice movement. When participants finish the workshop, they will know: How to apply for funding via the Grassroots Fund three grant programs How to attend RootSkills webinars and in-person trainings How to apply for event sponsorships  How to apply to present at a RootSkills training or webinar Session B:  Systems Change through  Story Telling/Making w/ Anha Kruzic Women are shaping our food system for the better - we're leading efforts to create a fair, healthy,and sustainable food system from the ground up. But we're doing so despite significant challenges. Despite the fact that women participate in the production and processing of food at roughly equal rates to men, most undernourished people in the world are women and girls. The food system overall is highly dependent on the labor and skills of women, but this doesn't necessarily translate to decision-making power. Instead, our labor is unpaid or underpaid, significantly more-so for women of Color, and we are subjected to high rates of gender-based discrimination, sexual harassment, and violence on the job. But we're taking control of our food systems for the better by farming, organizing, and advocating for systems that are better for farmers, workers, their communities, and ultimately -- our planet.  Since women's leadership is key to the transformation of our food system, we must tell our stories, learn from one another's successes and challenges, and grow our movement into the future.  Join us for this workshop as together, we explore the power of the exploration of our histories and story-telling for food and agriculture transformation.  Session C: The Behavioral Health of Women and Minorities Involved in Agriculture w/ Michael R. Rosmann Ph.D. Women currently are the primary operators of 17% of American farms and secondary operators of another third of U.S. farms.  Like males, these women operate large crop and livestock farms in the U.S. as well as smaller andoften organic vegetable and animal production farms.  People of color and females are increasingly pursuing livelihoods in agriculture in America these days.  Can female American farmers improve the well-being of the two fifths of farmers around the world who are women, mostly in third worldnations? This  presentation takes a look at the unique behavioralhealth problems that accompany agricultural occupations, drawing especially on the presenter's research and experiences as a licensed clinical psychologist and farmer for 40 years and as a professor and writer aboutoccupational and environmental health for two decades.  There are significantly higher incidences of anxiety, depression and suicide among the agricultural population in comparison to the nonagricultural U.S. population.  Relationship problems such as family conflict and abuse often are gender-related and are prime indicators of stress within agriculturalfamilies, according to the author's research.  People who are cultural and racial minorities in the U.S. frequentlyexperience special behavioral health adjustment issues, such as difficulties with their status as migrant workers and sometimes as undocumented immigrants, besides problems in daily living such as access to healthcare, schools and lack of family and social supports.  Racial minorities wantingto farm sometimes face resistance from the dominant culture in some locations around the U.S., although progress is being made in some of the main agricultural areas, like the West Coast.  This presentation takes a look at the special issues of women and racial minorities in agriculture andprograms that are already addressing these concerns, as well as further recommended solutions to obstacles facing women in general and those of color in particular. Essentially, this presentation will describe major behavioral healthstressors experienced by women in agriculture and recommend ways women can manage their behavioral health.  Three proposed objectives of thispresentation are the following: Attendees will acquire knowledge about the unique behavioral health issues that are linked to agriculture and how these behavioral health diagnoses compare to those of the nonagricultural population. Participants in this presentation will learn about gender-linked behavioral health issues of people engaged in agriculture that have been identified as specific to women. The attendees will learn about recommended solutions to the particular behavioral health problems experienced by women and minorities in agriculture. Lunch:. 12:30 pm to 1:30 pm, On your own! Workshop Sessions: 1:45 pm to 3:00 pm Session D: Re-focusing the Image of Women Farmers, One Story at a Time w/ Lise Metzger Do you ever feel isolated or unseen as you work hard on your farm? Have you ever thought no one cares about your intense investment in what you do? Hearing the stories of other women can help make you feel connected to other people, or to yourself or to something you'd like in your own life. It can help you know that the work you do matters, and that people are paying attention and care. The Grounded Women Project (http://groundedwomen.com/about-the-project/) tells the why and how story of independent farmers: what led each woman to choose a life in agriculture, for example, and what issues does she face as a woman? Come gather together to hear the creator of Grounded Women tell the stories of women farmers as well as the story behind the stories. Leave with a knowing that one story at a time, one farm at a time, women are changing the face of agriculture.   Session E: TBD Session F: TBD **Dinner and networking at Olives and Oil Restaurant, 124 Temple Street in New Haven from 5:30 pm to 8:00 pm. Registration for this event is separate from admission and required for entry.  Please register separately at checkout.** Day Two, June 29, 2018 Sunrise yoga (Omni Hotel, room TBD): 6:30 am to 7:15 am Introduction: 8:30 am to 9:00 am -Women in Agriculture - Commissioner Reviczky, Connecticut Department of Agriculture  Plenary Session: 9:15 am to 10:45 am - Planting Sacred Seeds in a Modern World; Restoring Indigenous Seed Sovereignty w/ Rowen White All across Turtle Island (North America) we are seeing a great resurgence of indigenous tribes building healthy and resilient food systems as a cornerstone to cultural and ecological renewal programs, as well as a means to reclaim indigenous economies and true economic and political sovereignty. If a community is to be truly sovereign and free from colonizing forces, they must be able to feed and nourish themselves with culturally appropriate foods. Food and seed sovereignty is the right of peoples to healthy and culturally appropriate food produced through ecologically sound and sustainable methods, and their right to define their own food and agriculture systems.  Despite the scorched earth tactics of countless colonial and imperial forces to try and starve Native American communities into submission and cultural amnesia, indigenous people and their seeds survived, and now a rich array of community food and seed sovereignty projects are sprouting, sowing seeds of hope in the hearts of many. Through her work with the Indigenous Seed Keepers Network, Rowen is helping indigenous communities cultivate culturally appropriate solutions to restoring seed stewardship of traditional foods. Using this seed work as a powerful means for reconciliation, she will share powerful and inspiring stories of the rematriation of our traditional seeds back into the reverent care of indigenous women.  In the age of the increasing industrialization of our food and the erosion of biodiversity within cultural contexts, the Indigenous Seed Keeper Network asks the question; Can we envision the Seed Commons, and coordinate collaborative efforts to care and protect for our seeds that is in right relationship to our indigenous cosmology? How can we use the process of reclaiming our traditional seeds and food as a powerful means of cultural restoration? Come learn about the beautiful seed legacy of the indigenous people of this land, and see how you can be a part of the reconciliation between yourself and the seeds of your own ancestry, and revitalize this ancient web of relationships that comes with being an indigenous Seed Keeper. Attendees will gain an understanding of: The dynamic intersection and importance between cultural restoration and the restoration of indigenous food and seed systems. The importance of indigenous women taking a fierce and loving role in the rematriation of our heritage seeds back into our communities from government and university research programs and from the collections of museums and public access seed banks.   A heartfelt and deeply touching array of stories from indigenous communities from North America who are cultivating new seed and food culture as a means to heal historical trauma and reconnect to our ancestral lands. Break: 10:45 am to 11:00 am Workshop Sessions:. 11:15 am to 12:30 pm Session G:  At the Root: An Examination of White Sepremacy and Systemic  Racism in US Food Systems w/ Anha Kruzic Though many movement participants presume alternative agriculture movement spaces to be economically, socially, and environmentally just, narratives of whiteness and color-blind racism permeate the movement's collective discourse. I argue that a critique of whiteness and white supremacy is necessary to build sustainable food and agriculture movements that dismantle injustice. In this session, we will identify common manifestations of whiteness in food and agriculture movement spaces, and learn tools to help identify our own narratives of color-blind racism and whiteness which reify white supremacy. This session is based on data analyzing communications from researchers, farmers, advocates, activists, and more across six communities in the United States.  Session H: Grow Together: How to Launch a Local Women Farmer Network with Lisa Kirivist Establishing a local network of women farmers is a powerful way to transfer skills, knowledge and support along with initiating grassroots activism in our community. Attendees will learn about opportunities and challenges in building a local group. This session brings together personal insights in how to organize a local women farmer network, including start-up challenges and the strategies and options to overcome. The focus of this workshop is on tangible advice and support. Session I:  Risking It All:  Current Mental and Physical Health Hazards Facing Women in Agriculture by  Lorann Stallones, PhD In developing countries, women comprise approximately 43% of the total agricultural workforce. In developed countries, despite the perception that there are few women working in agriculture, they comprise approximately 33% of the agricultural workforce. Based on this perception, less work has been done to characterize health hazards among women working in agriculture than among men working in agriculture.  Women working in agriculture in developing countries have less access than men to financial resources, land, education, livestock, farm equipment, extension services, and farm labor.  These circumstances result in lower productivity and inability to transport crops to market.  These factors intersect with the hazards associated with farming to increase the likelihood of injuries and diseases associated with farming. As informal and formal workers on farms, women are exposed to a multitude of biological, chemical, physical, and mechanical hazards.  Genetic and other biological differences may contribute to differing susceptibility to agricultural chemicals between men and women.  Susceptibility may be increased or it may be reduced due to gender.  Therefore, patterns of cancer among women exposed to agricultural chemicals may well differ from patterns observed among men. Emotional and psychological gender differences related to the isolation of rural farm life have not been assessed.  Mental health in rural areas has been a neglected issue in medical care service access.  The absence of services may have a detrimental effect on the health and well-being of farm women. Women who are migrant farm workers are exposed to the same hazards as men who are migrant workers.  However, they are likely to experience greater ergonomic problems than their male counterparts.  In addition, migrant women who work during their pregnancy are likely to experience problems due to bending and lifting.  Exposure to pesticides in the fields has been a persistent problem for all migrant workers and should also be of concern for the children exposed in utero.  Migrant women may also be at risk of sexual assault, as they may be far from their families and viewed by their bosses or co-workers as targets.  Women who work on the farm are often excluded from consideration of agricultural safety and health programs.  Role definition as homemakers or employed workers in settings other than agriculture may influence women's perception of risk, involvement in safety programs, and identification of diseases related to agricultural exposures.    Attendees will gain an understanding about: The intersection between gender roles, job tasks, and farm work and the risk of injuries.  Agriculturals issuesaffecting the health and well-being of migrant women, women in developed countries, and women in developing countries About the international trade and subsidy policies that impact women working in agriculture with particular focus on exposure to health risks. Lunch:. 12:30 pm to 1:30 pm, On your own! Workshop Sessions:. 1:45 pm to 3:00 pm Session J:.TBD Session K:  Feminism Is Not Enough! Reviving the Yoni Culture - A Celebration of the Feminine, An Awakening of the Goddess Within  w/  Ruby Olisemeka The feminist movement, mid 1800's onwards, has made significant ideological changes and tangible strides in the struggle for equality between men and women.  However the movement has centered historically around empowering, white women, and appears to seek assimilation into a fundamentally flawed societal model, rather than dismantling that model and all the oppressive systems that are woven within it. The feminist movement also appears to not acknowledge the suppressed history off the ancient feminine goddess cultures and reviving them as a critical part of womens liberation. In this interactive workshop we will critically analyze the concept of femininity, look at some feminine archetypes, and the cultures that created and celebrated them. We will discuss the ways we can work to awaken this culture, first within ourselves.  We will practice some rituals and methods (herbal medicine making, land practices, mantras) to strengthen and express the divine feminine within. Session L: Reclaiming Your Voice w/ Minda Honey It is time to tell your story. The story of you and the soil, what it has taken from you – your sacrifices and your sweat as you've labored over the years – and what it has given to you – the crops you've harvested and the revelations you've unearthed. By telling our stories we empower our sisters to dig in beside us and give others the gift of awareness and insights into the challenges we face. Storytelling is a from of self-care and a way to validate your experience. You have a story, it deserves to be told and it deserves to be heard.  In this workshop, Minda Honey will share her experience as a "Woman of Color in Wide Open Spaces," talk about her writing process and take you through a writing exercise. You will leave the workshop with: Craft suggestions for how to write your story in a way that is compelling for the reader Tips for how to get started – because sometimes the blank page can feel intimidating Discussion about the difference between the writing we do for ourselves and the writing we do for others This workshop will be a worthwhile experience for you whether you're interested in strengthening your craft, are looking to break ground on a new project or are ready to return to an old project with fresh eyes. Minda has worked with writers of all ages, at the college level and within the community. *Please join us for smores and story telling with Minda by the fire at astate park  location TBD, 5:00 pm to 7 pm. FREE!* Day Three, June 30, 2018 Sunrise yoga (room TBD): 7:15 am to 8:00 am Community Volunteering Opportunity:. Habitat for Humanity WomenBuild, 9:00 am to 3:00 pm (*****By registration only. Volunteers MUST COMMIT TO THE WHOLE DAY!  Please check for more details on this opportunity by April 2018*****.). OR Community Farm Tour # 1: Common Ground High School, TBD Community Farm Tour # 2:. TBD Community Farm Tour # 3: Slate School, TBD Community Farm Tour # 4: TBD Our Valued Supporters and Sponsors: New England Grassroots Environmental Fund Connecticut Suicide Advisory Board Cabot Cheese of Vermont Food First Moutain Rose Herbs Food Tank Food Solutions New England Natural Nutmeg Magazine The Edible Schoolyard Project Speaker Biographies: Dr. Lorann Stallones/Director, the Colorado School of Public Health at Colorado State University Lorann Stallones, PhD, MPH, is the Director of the Colorado School of Public Health at Colorado State University. She has held this position since 2007. Her interest in public health heath came from three different experiences. As an undergraduate she wanted to go to nursing school and when a former student of her father's and long -time family friend heard about this she started sending her books about medical sociology and talked about public health. The second fact that influenced her was that her father was an epidemiologist and the founding Dean of the University of Texas School of Public Health at Houston so she had always heard about public health, but never thought of herself as a scientist, so hadn't given it much thought. In her junior year in college she took seminar in anthropology where she wrote a paper discussing the development of mental illness as a medical diagnosis in African countries after a number of African physicians had been trained in England. Prior to that, most of the symptoms and behaviors related to the mental illnesses diagnosed had simply been ignored or accommodated by the people living in those communities. She became intrigued with the role of culture in our perceptions and definitions about what were considered diseases and what were not. From this interest it became clear how someone interested in culture may have something to contribute to understanding health and disease. Dr. Stallones has had varied research interests over the years. Her first research area was the role of marital status change on risk factors for cardiovascular disease. She then moved to studying respiratory diseases and injuries among farmers and farm residents. She also studied the health benefits of the human-animal bond. She moved to Colorado State University in 1990 to pursue work related to pesticide exposure and mood disorders leading to suicidal behavior. She has conducted community based participatory research on a wide range of injury related topics from migrant farm workers risk of injury and perceptions about injury to community concerns about traumatic brain injury, school playground injuries, bicycle safety, and car safety seat use. Recently she has been working with colleagues to study agricultural injuries in China and with colleagues in China, Costa Rica and South Africa to study mood disorders associated with pesticide poisoning. She is also working with graduate students to build a research program that focuses on the role of mindfulness in promoting health and well-being and reducing adverse responses to stress. Dr. Mike R. Rossman/Farmer, Psycologist Michael R. Rosmann is a psychologist and farmer whose life's work involves improving the behavioral healthcare of the agricultural population. He seeks to advance regional and global food production policy which enhances the behavioral and economic welfare of food producers, maintains stewardship of the land and other resources used in food production and protects the safety of food for consumers. In an era of increasing tension due to bioterrorist threats and shifts in the agribusiness climate, he is a voice for the agricultural population. The New York Times said this about him: a fourth generation farmer as well as a clinical psychologist, he speaks the language of men and women on the verge of losing their place on the land. Rosmann has been instrumental in developing a new specialty: agricultural behavioral health. He has authored the popular book, Excellent Joy: Fishing, Farming, Hunting and Psychology, as well as many book chapters, short stories, scholarly articles and magazine features. He has appeared on ABC, CBS, CNN and National Geographic television network programs and has been a guest on National Public Radio and the Farm Bureau Network numerous times. He writes a weekly syndicated column, Farm and Ranch Life, for numerous newspapers. He has often served as a keynote speaker at state, regional, national and international conferences. With other concerned citizens, Rosmann founded AgriWellness, Inc., a nonprofit seven-state program which promotes accessible behavioral health services for underserved and at-risk populations affected by the farm crisis and by the ongoing transitions in agriculture. He is also adjunct faculty at the University of Iowa. He is an avid fly fisherman and hunter.  Michael R. Rosmann received a bachelor's degree in psychology from the University of Colorado and a Ph.D. in clinical psychology from the University of Utah. Following a five year stint as a faculty member in the psychology department of the University of Virginia, Rosmann and his family moved to their farm in rural western Iowa where he developed an organic crop and purebred livestock operation. He also provided mental health services to the farm population, first in private practice and then in community mental health centers. He developed the first mental health response in Iowa to the farm crisis of the 1980's. He initiated Prairie Rose Mental Health Center in Harlan, Iowa and was its director for eight years. Rosmann received the 2002 Victor I. Howery Memorial Award, given yearly by the National Association for Rural Mental Health to an individual who has made significant contributions to the rural mental health field. In 2012 the American Psychological Association made Rosmann its honoree for the State Leadership Award "for his exceptional service to the profession of psychology as a resolute advocate for rural mental health. He has been inducted into the Iowa Agricultural Safety and Health Hall of Fame. The Sowing the Seeds of Hope program, which AgriWellness administers, was selected as a model program for inclusion in Rural Healthy People 2010: A Companion Document to Healthy People 2010. He is a leader of national efforts to fund health care for uninsured and underinsured farm and ranch families and agricultural workers and to establish a National Center for Agricultural Behavioral Health. Lise Metzger Lise Metzger writes and photographs the project Grounded Women: Stories of Women Who Farm. She is an award-winning photographer who for the past 30 years has shot for advertising agencies, magazines and corporations, as well as creating branding imagery for individual clients. She has taught both digital and film photography at universities, high schools and in a men's prison.  What started many years ago as severe stomach pains led to a deep dive to understand the connection between food and health, which led to a broader investigation of our food system as a whole and the social, political, economic, environmental, and health issues that result. She launched Grounded Women as a way to share the authentic and inspiring stories of women who choose a life in agriculture, and to contribute to changing the narrative around food and the women who grow it.  You can see her work at lisemetzger.com andgroundedwomen.com. Alexdra Ketchum/Doctoral candidate, McGill University Alex Ketchum is a doctoral candidate in the Department of History at McGill University focusing on feminist restaurants in the USA and Canada from the 1970s and 1980s. Her work integrates food, environmental, and gender history. For more information on her research, please visit thefeministrestaurantproject.com. In addition to being co-founder and editor of the Historical Cooking Projecthistoricalcookingproject.com, Alex has been actively involved in feminist food studies and food politics. At Wesleyan University where she received her BA in Feminist, Gender, and Sexuality Studies, Alex was the co-manager of Long Lane Organic Farm. Additionally in 2009, she founded Farm House, a living community for fifteen students dedicated to food politics work, which continues today. She enjoys experimenting with cuisine from around the world and throughout different time periods.  Maya Hey/Doctoral candidate, Concordia University Maya Hey is an interdisciplinary researcher, foodmaker, and artist, combining her backgrounds in gastronomy, nutrition, and movement to investigate ways to engage the everyday eater. New to Montreal, Maya is a doctoral student in the Communications Department at Concordia University. Prior, she has conducted various research projects related to food: on a post-Fukushima food system, on Japanese ferments with the Nordic Food Lab, and on antioxidant scavenging power at the University of Notre Dame. She completed her master's degree in Food Culture and Communication with an emphasis in media, meaning, and representation at the University of Gastronomic Sciences in Pollenzo, Italy. Lisa Kirivist/Author, Sustainable Agriculture Advocate A national advocate for women in sustainable agriculture, Lisa Kivirist founded and leads the Rural Women's Project of the Midwest Organic Sustainable Education Service, an award- winning initiative championing female farmers and food-based entrepreneurs. Lisa is a Senior Fellow, Endowed Chair in Agricultural Systems at the Minnesota Institute for Sustainable Agriculture at the University of Minnesota, focusing on identifying opportunities to champion leadership development among female farmers and rural women.  She was recognized by In Business Magazine as a "Woman of Industry" for leadership growing the women in sustainable agriculture movement. Together with her husband, John Ivanko, Lisa is co-author ofher husband, John Ivanko, Lisa is co-author of Homemade for Sale,Farmstead Chef, ECOpreneuring and Rural Renaissance. She writes on food, farming and women in agriculture for a range of publications including Hobby Farms, Mother Earth News and Grit. Lisa, John and their son Liam run Inn Serendipity Farm and Bed & Breakfast, a diverse farm operation completely powered by the wind and the sun and considered among the "Top Ten Eco-Destinations" in North America and nestled in the rolling green hills of southern Wisconsin. Anha Kruzic/Director of Publications and Communications, Food First Ahna Kruzic is a community organizer turned activist-researcher from rural Iowa. Ahna has worked as researcher, community organizer, coalition-builder, and more. As Director of Publications and Communications at Food First, otherwise known as the Institute for Food and Development Policy, Ahna coordinates and contributes to communications, analysis, and research-for-action which seeks to dismantle exploitative racism, capitalism, and oppression in the food system. Minda Honey/Author Minda Honey is the founder of Write Louisville and a full-time writer focused on centering marginalized voices. She has a bi-weekly relationship advice column in the LEO Weekly, a monthly column about living at the intersection of race and gender in the San Diego CityBeat and her work has been featured in Longreads, Teen Vogue, the Guardian, the Washington Post, the Los Angeles Review of Books and by many other outlets. She's crisscrossed this country by car several times, most recently after graduating with her MFA in Creative Writing from the University of California, Riverside. Find her online at www.mindahoney.com. Nakia Navarro/Program Director, New England Grassroots Environment Fund Nakia Navarro hails from Hilton Head Island, South Carolina and currently resides in Boston, Massachusetts with her two children, Kayla and Mateo. Her nonprofit experience spans well over fteen years. Nakia most recently was the New England Regional Director at Let's Get Ready, which provides low-income high school students with support services to both enter and complete college. Nakia received her Bachelor's degree in Public Administration with a minor in Spanish from Winthrop University in Rock Hill, South Carolina, a Certi cate in Global Communications from the University of Salamanca in Salamanca, Spain, and she is currently pursuing her Master of Arts in Urban and Environmental Policy and Planning at Tufts University. Rowen White/Director, Sierra Seeds Rowen White is a Seed Keeper from the Mohawk community of Akwesasne and a passionate activist for seed sovereignty. She is the director and founder of the Sierra Seeds, an innovative organic seed stewardship organization focusing on local seed and education, based in Nevada City CA. She teaches creative seed stewardship immersions around the country within tribal and small farming communities . She is the current Project Coordinator and advisor for the Indigenous Seed Keeper Network, which is a part of the Native American Food Sovereignty Alliance. Her Seed Seva Educational program is a wholistic, indigenous permaculture based approach to seed stewardship which honors the many layers of seed culture , from practical hands on skills, cultural context and memory with guiding principles that are rooted in an indigenous ecology of interconnected relations. She weaves stories of seeds, food, culture and sacred Earth stewardship on her blog, Seed Songs. Follow her seed journeys at www.sierraseeds.org. Ruby Olisemaka/Farmer, Food Justice Advicate Ruby Olisemeka is an independent educator/consultant focusing on socially transformative education; food justice and incorporating African and indigenous practices into farming and food & farming education. She began her farming career as an apprentice at Stone Barns (2011) and has since built numerous school and urban gardens in lower Westchester and Harlem. Ruby has over 10 years' experience educating children and young adults, she has worked as an educator at Edible Schoolyard NYC, Harlem Grown and various public and private schools and institutions. "We who do this liberation work want to bring about a revolution in our lifetime; we have deemed, with sadness, the current national and international power structure not fit to ensure and promote the full expression of life.  I am part of a collective, a movement of people wanting to bring about a more just world. I am a farmer and teacher, a spiritualist and budding herbalist, an afro centrist and naturalist. My path as a farmer began with an apprenticeship at Stone Barns Center for Food and Agriculture in 2011.I've kept my hands in the soil ever since, building urban, suburban and periurban gardens in lower Westchester and Harlem.  I teach (in classrooms, gardens, spaces where people can gather) children and adults how to do the work I do on land.  A farmer can rarely escape the intersections of poverty, politics, food access or justice when farming sustainably. I am an activist working to dismantle the food and health related injustices Africans and people of African descent endure."- RO Performance Artist Biographies: Kelvin Young Kelvin Young is the Director of Toivo by Advocacy Unlimited, Holistic Stress Management Instructor, and Sound Alchemist.  As a recognized leader in the addiction recovery movement and throughout the holistic healing community, Kelvin's powerful healing journey began while he was in prison, where he found inner peace, self-realization, and love through meditation, yoga, and the expressive arts.  Bringing his story of personal transformation into the community, Kelvin has shared his story with thousands of individuals in or seeking recovery.  In 2014 Kelvin became the Director of Toivo by Advocacy Unlimited - a center for holistic healing and stress management in Hartford, Connecticut. Kelvin continues to share his story of healing from within as a passionate public speaker, and he is known for his warm, loving, and down-to-earth way of connecting with people. Questions?  Please feel free to contact Michelle L. Bicking at [email protected] at any time.